Hi friends! I am Destri from
The Mother Huddle
, pleased to meet you. I had wrote a little ditty with what we are all about, but it became entirely too long so instead I thought I would just let the
about page
introduce us. Really I have been waiting for what seems like ages to share this project with you, so shall we just get on with it?!

I have a great little landing at the top of my stairs that has acted as my kids toy room for years now. The thing I dislike the most is that the only soft element in the room is the carpet, everything else is hard. I wanted to bring in some more storage but thought if I put in more shelving it would just add to the "hard" look of the space. So then I remembered
a project I had done for my sewing room with little hanging baskets
and how if I just made them bigger they would be perfect. I knew I had to add something to hold the bottom in place, but if you are anything like me, if I have to pull out an electric saw to get a project done...it's going to take a while :). So I found the perfect solution at Home Depot, and did some math and created a tutorial that only involved a little quality time with my seam ripper. Sweet. Let's get started!
Hanging Fabric Storage Baskets
Supplies:
three 8 x 10 Plexiglas sheets, I bought mine at Home Depot for about $4 a piece, by the window section
Materials:
each basket takes 1 yard of fabric, so I used three for this project.

each basket needs a yard of interfacing, again I used three yards. I used pellon 809 decor bond, but craft bond would work as well.
Fabric Cuts:

From your fabric cut six 18½ x 28 inch pieces, and three 4 x 10 ½ inch pieces. You will then iron them onto you interfacing per it's instructions, and then cut out. Trust me, it's easier than cutting out the pellon and then ironing! As a side note, the ironing is the longest part of this project...if I had a teenager I would have paid top dollar to have them do it, just sayin'!

Sewing:

Now for the fun part! You will use a ¼ inch seam allowance unless noted, and don't forget to back stitch!




Take one of your 18 ½ x 28 inch pieces and fold it in half with right side in, short ends together. Now sew up the sides, leaving the top open. Repeat on the five left.




You will need two sheets for one basket, and they should look like this. I alternated them so that I had a different pattern on the inside then I did on the outside.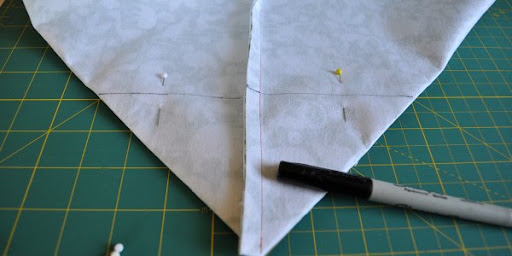 Leaving them wrong side out, take and fold your corners down like shown. To make sure that you are aligned correctly, just make a crease on the bottom fold and line that up with the seam on the inside, make sure your seam is flattened all the way out.

Take a ruler and mark a line 7½ inches long as shown and pin. After you make the line measure from the point to the line and you should get 3¾. Repeat on the other side, and do this on all of your pieces.




It does help if you have a cutting mat with measurements, you can see how I lined up the corners to make sure they were symmetrical. If you don't, that's fine, just eyeball it.




Now sew along the lines on each of your corners.

Take the pieces you want on the outside and turn them right side out, folding the corners down. Drop the Plexiglas into the bottom.




Leaving your other pieces right side in, fold your corners under and place inside of the other shell, on top of the glass.




Next fold your outer shell over about a half inch and pin then repeat on the inner shell...




using the same pins so that you are pinning them together. Make sure the two overlap some where you will stitch together.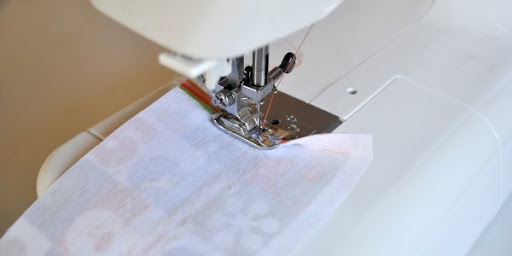 Take your three smaller pieces and fold the ends over a ¼ inch and sew both ends.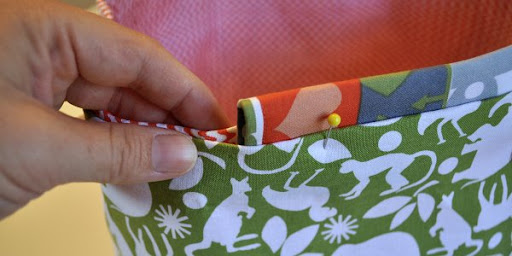 Fold in half and insert on what you would like to be the backside of the basket. Pin in place, making sure that whatever rod you use will fit through. I tested mine now to make sure.




To make sure that I had it centered, I just pulled the basket straight at the seams and eyeballed it.
Now with a little longer stitch length just sew all around the top, making sure to get all the layers included in the stitch.




See, one nice and clean seam.
And you done! Now just hang them!




Then fill 'em up!
They really are super easy, and the possible uses are endless. I have
this post
that explains how to make them different sizes and if you make them smaller they should need nothing in the bottom. You can use any kind of curtain rod, just make sure your piece that the basket will hang from is big enough. Let me know if you have any questions!

I hope you will come join us in
"The Huddle"
, we love having new friends to share with, and no you don't have to be a mom...we all just happen to be :)
You May Also Like…