Hello UCreate readers!! I am so excited to be here today!
My name is Bev and I blog over at Flamingo Toes. I love making handmade gifts – and I especially love them when they are fast and inexpensive but they don't look like it! Today I'm sharing this 15 Minute Plaid and Lace Infinity Scarf and it is sooo quick and easy to sew up. You could make up a bunch in an afternoon and take care of a whole group of gifts at once!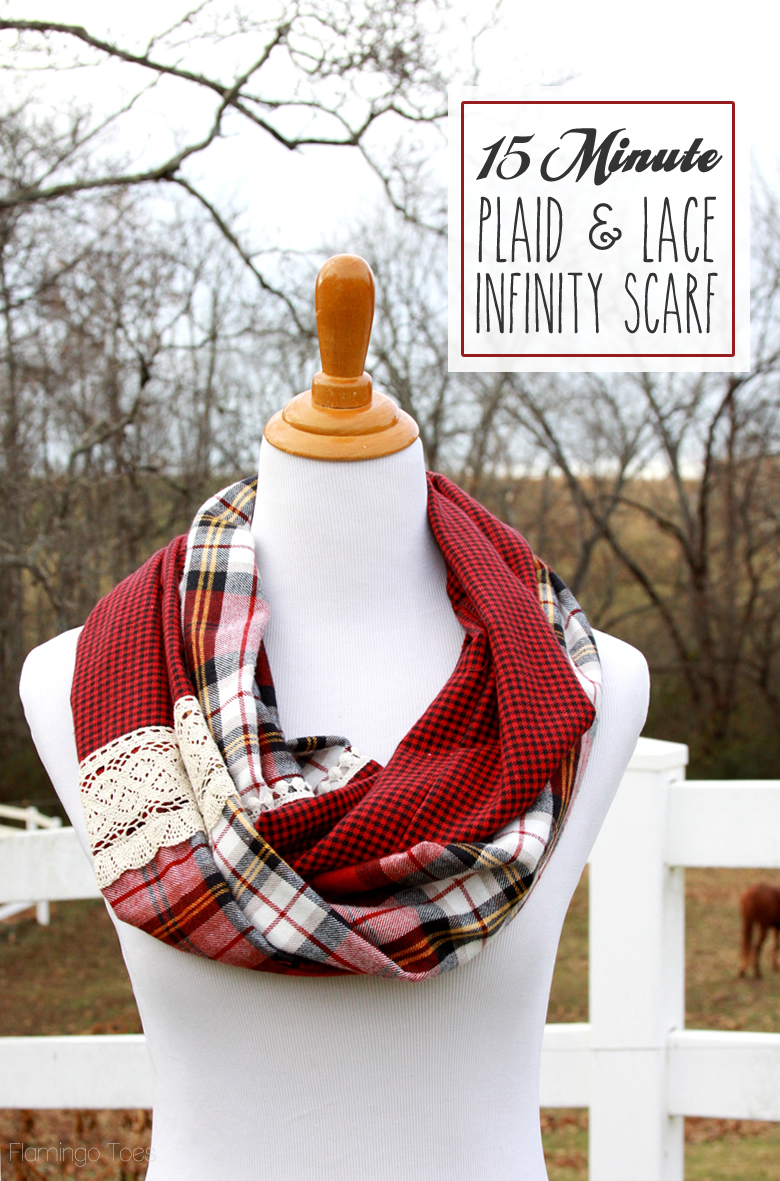 This scarf is a fun combination of two plaid flannel fabrics paired with some pretty crochet lace. The lace makes such a great contrast with the flannel! My favorite part about it though is how soft and cozy it is. I think I'm keeping this one and making up another to give away!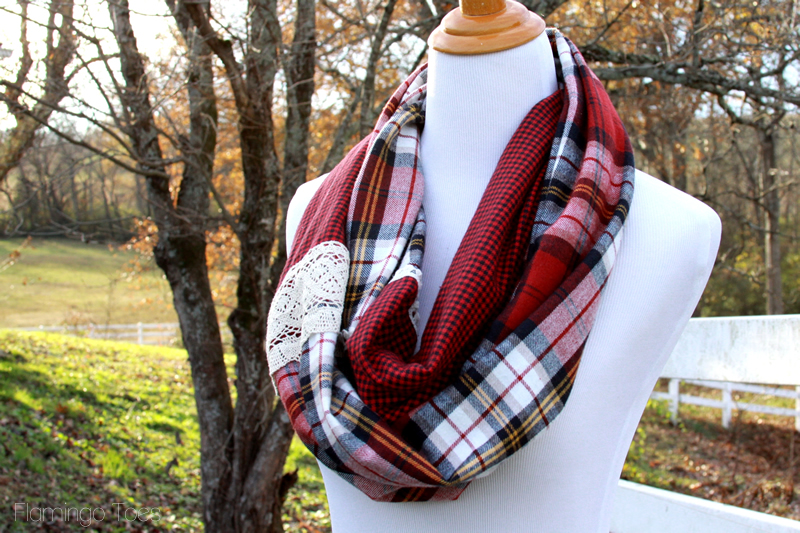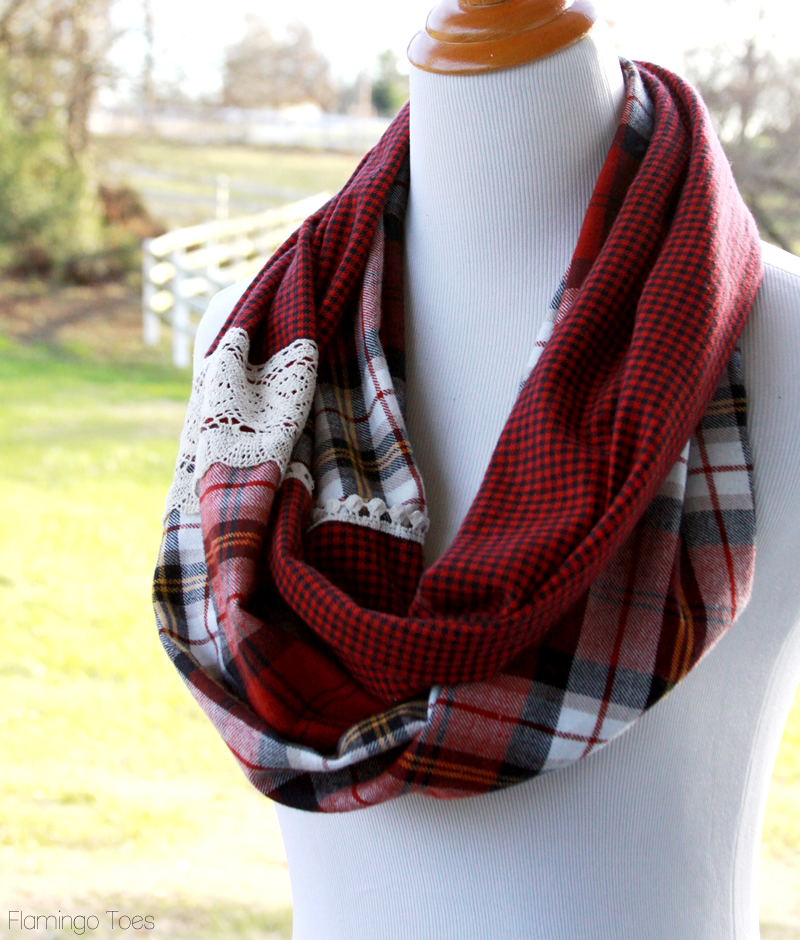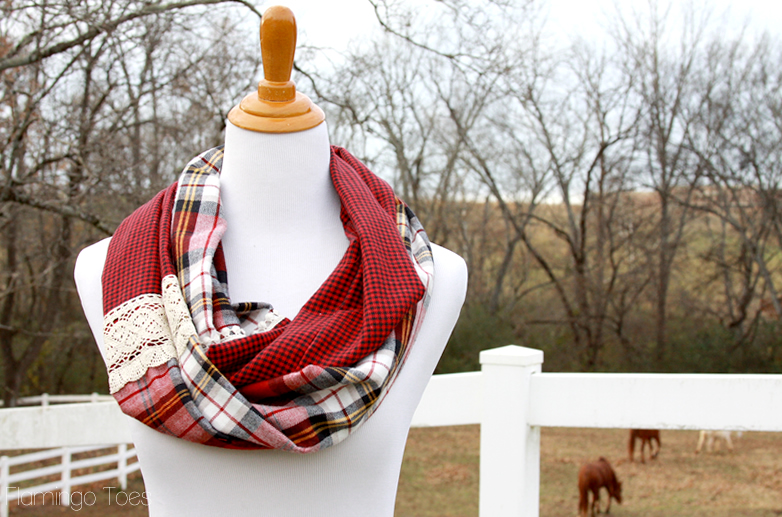 This tutorial is super easy! Here's what you'll need:
(You will want to pick these up when the fabrics/trims are on sale or you have a coupon) 🙂
1/2 yard two different plaid flannels
1/2 yard wide crochet lace
1/2 yard thin crochet lace
Choose one of your flannel fabrics to the be the smaller fabric and cut 12″ off the end. So the piece will be 18″ x 30″.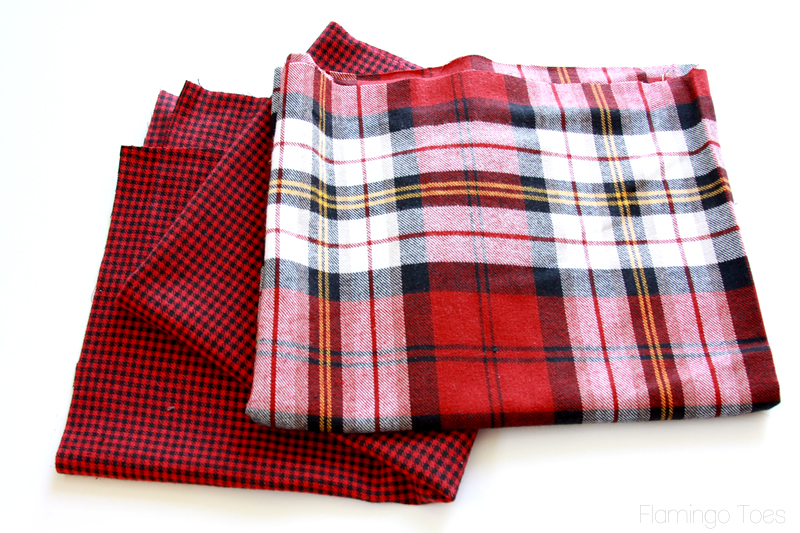 Lay the short ends together of the two pieces so the right sides are together. Sew across the seam. Lay your wider lace piece over the seam so it overlaps it just a bit. Sew down the lace along the top and towards the bottom to hold it in place.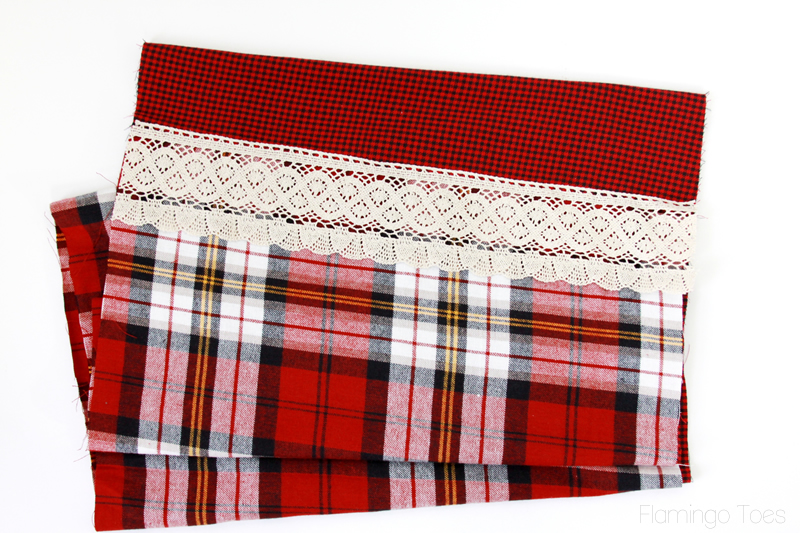 Fold the piece in half so the right side is inside. Line up the long side edges and sew together.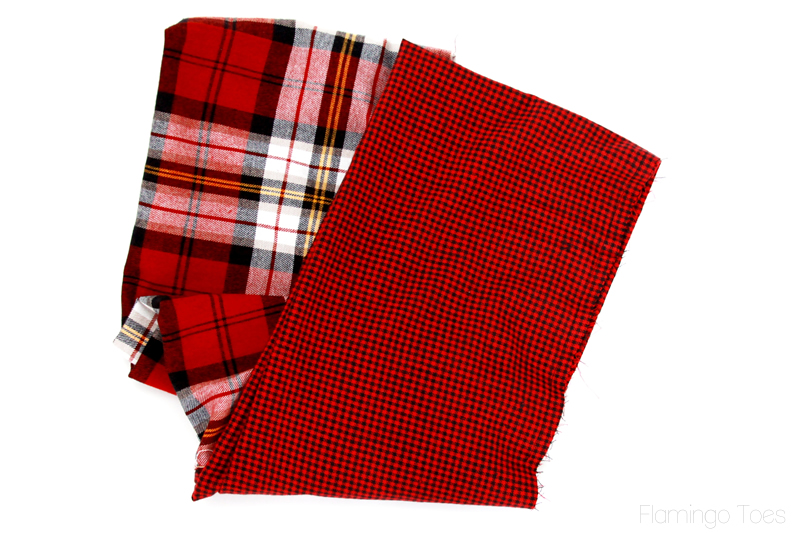 Turn the scarf right side out. Press under the open edge on the smaller flannel piece about 1/2″. Place the other open edge inside the open end with the pressed edge so the pressed edge overlaps it. Lay the smaller lace over the fold. Sew the pieces of the loop together, continuing to overlap the edges as you go, until you can't feed any more fabric together. (The scarf should still be "hollow" in the middle – in other words the seam should not go through all the layers at once). Finish sewing the opening closed by hand.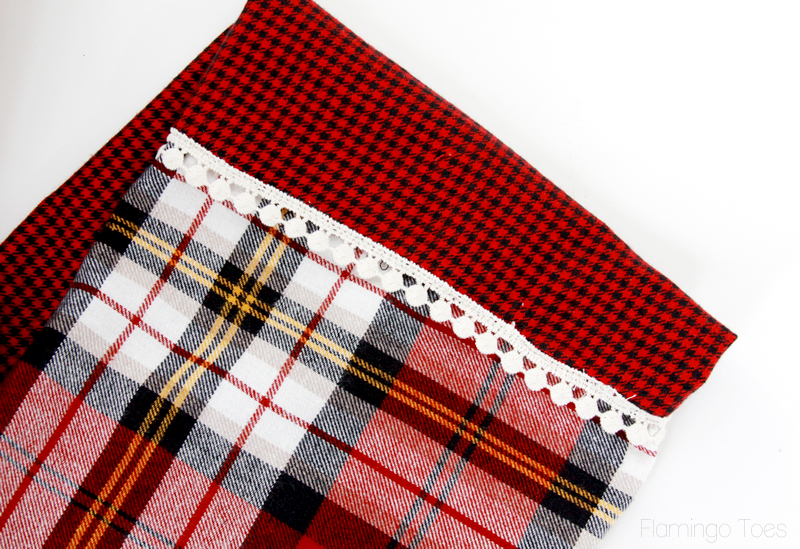 And that's it! Now you have a super cute and stylish scarf for a gift – or to keep and wear while you go Christmas shopping!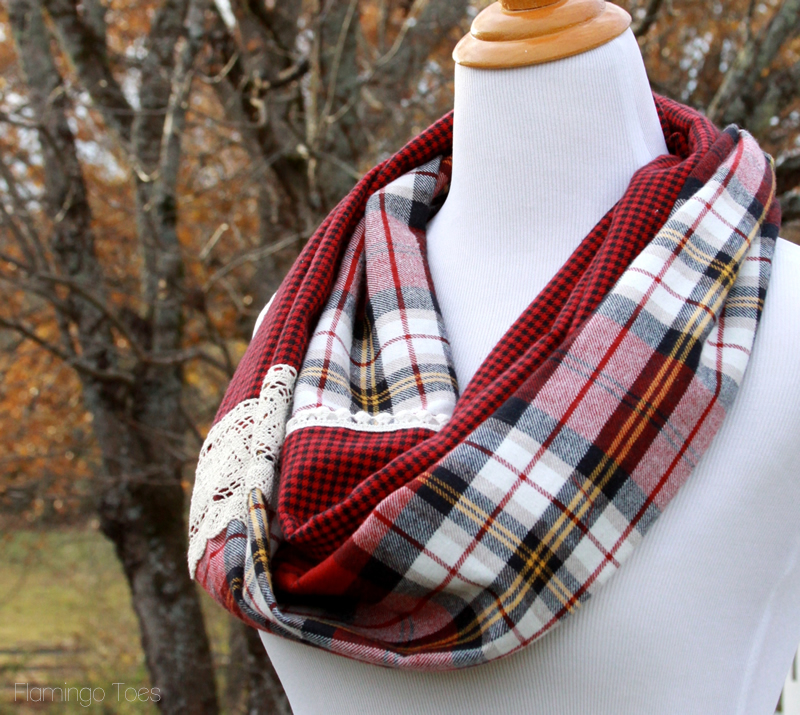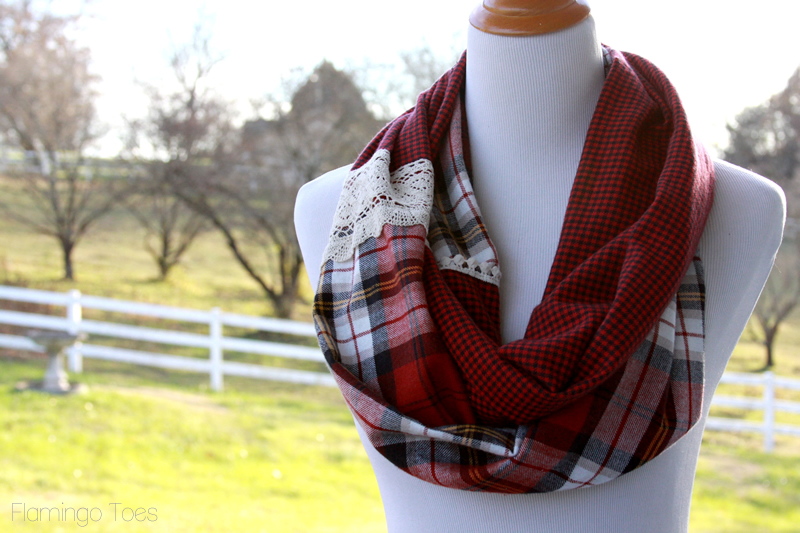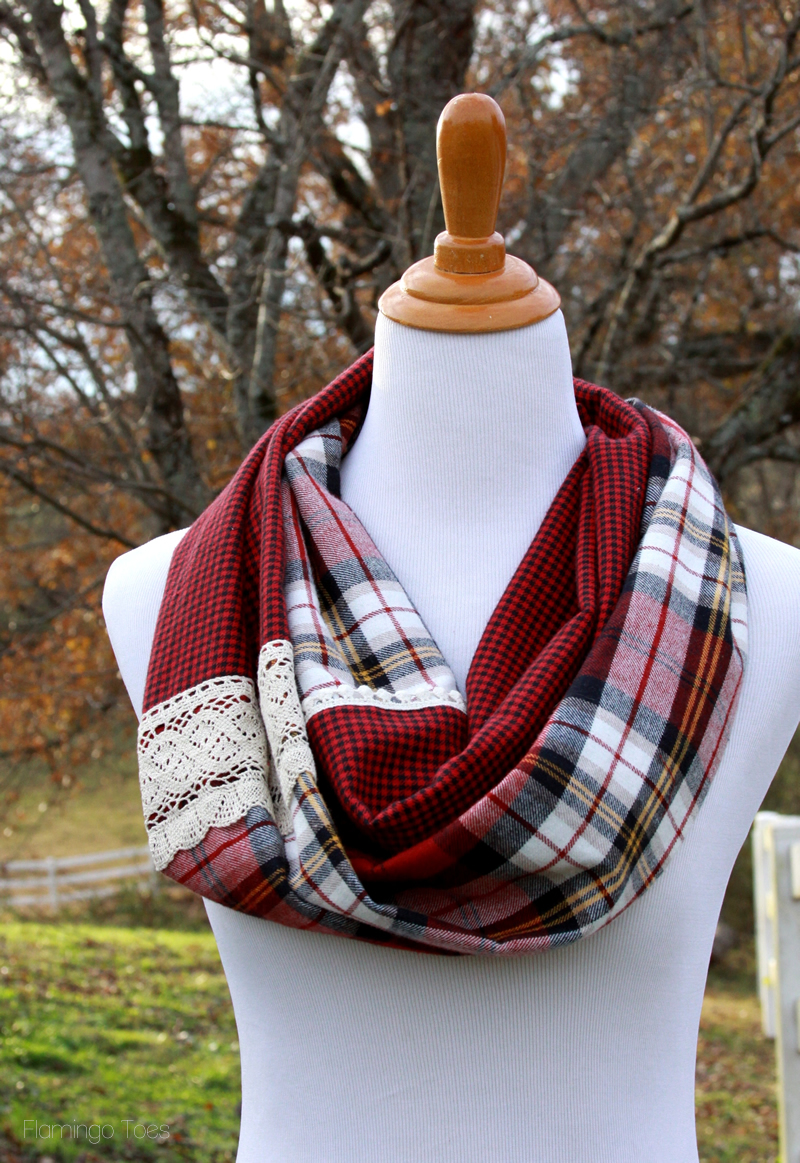 I hope you like it!
I'd love for you to come say hi over at Flamingo Toes!