Hello, it's Toni from Design Dazzle!! I love U-Create and both sisters who are behind the amazing blog. So many awesome, creative ideas!
I was asked to create a Homemade Christmas ornament to share with all of you! I decided to make Christmas tree ornaments out of inexpensive knit gloves! These add a fun, totally unique aspect to your tree. It's also good to have various textures on a Christmas tree. My Christmas tree has many different textures – birch logs, beaded snowballs, frosted tree branches, plaid ribbon and cozy knits. If you would like to see my entire Christmas tree, click here.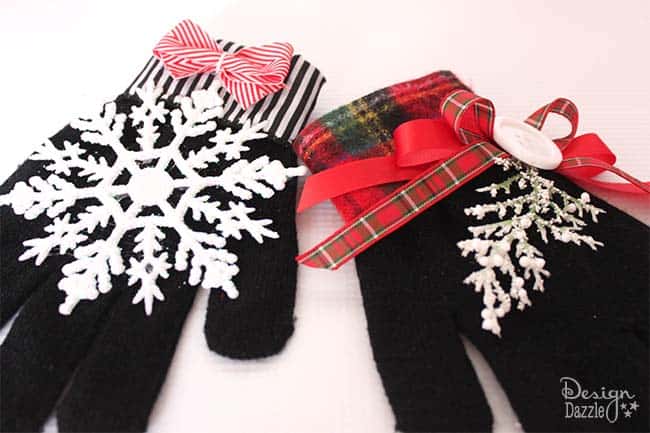 These glove ornaments would also be a fun little pouch to put money, gifts, or treats in to surprise your family or give as a gift! This is a simple DIY ornament that can be made in 3 easy steps in about 10 minutes, and your kids can even help, too! Gloves are great for warming your hands, but also for warming hearts as a cute Christmas tree ornament!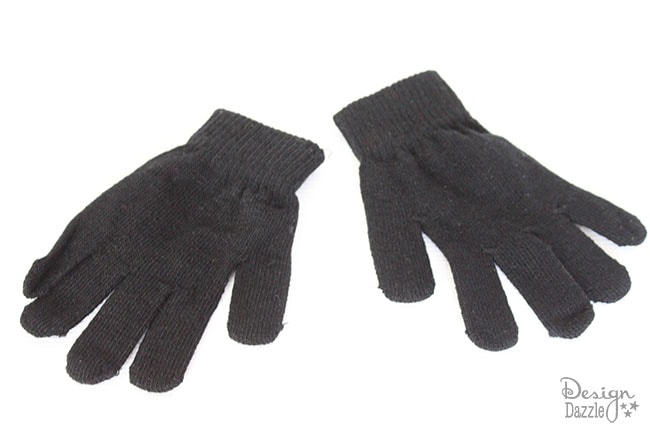 Supplies to Make a Glove Christmas Ornament:
black knit gloves
ribbon scraps
Christmas embellishments, odds & ends
hot glue gun
scissors
Step 1: Gather ribbon scraps or cut a strand of new ribbon. Make sure to measure so that the ribbon will cover the length of cuff entirely. I wanted mine to cover the entire width cuff of the glove, so I chose 2 inch wide ribbon, and cut it down to about 1 1/2 inch.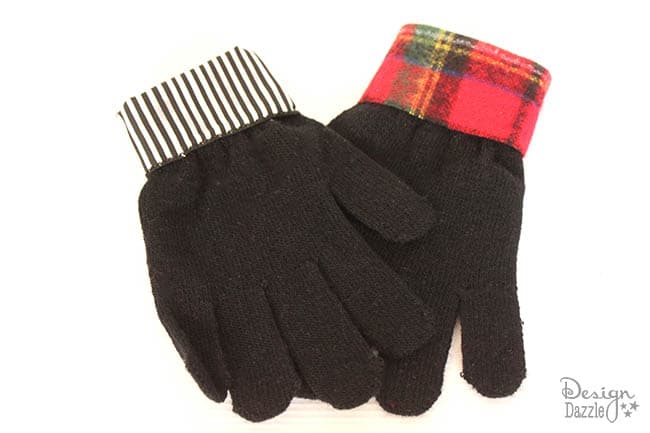 Step 2: Carefully hot glue the ribbon onto the cuff of the glove. Try to get it as straight as possible.
Step 3: Gather any Christmas embellishments that you have laying around. I had a snowflake ornament, a bit of extra greenery, ribbon, and a button. Make bows, arrange the knick knacks and doodads you decide to use, and hot glue however you like! Make it your own and as beautiful as you can.
Add a little ribbon loop to the top to hang on the tree, and you're ready to go! This glove Christmas Ornament comes together in no time and adds flair to your Christmas tree in such a sweet, simple way! I hope these sweet Glove Christmas Ornaments will warm your heart when you see them hanging on your Christmas tree!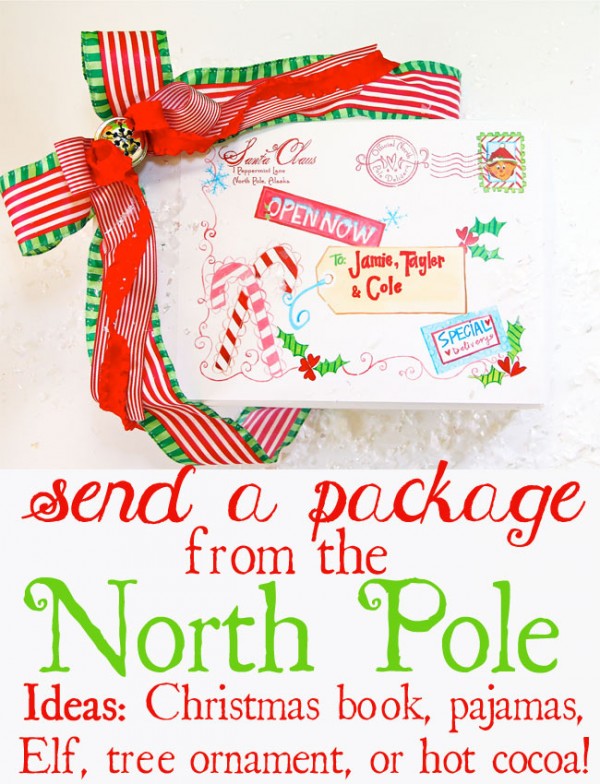 One of our favorite Christmas posts is our North Pole Mailing Label. Place the North Pole label on a box filled with PJ's or a Christmas book, etc. This idea isn't about getting more gifts – it's about a special tradition that your family does and receiving the items in a very FUN way – either on Christmas Eve or before Christmas!
I would love for you to come visit me at Design Dazzle. Sharing creative ideas and inspiration for celebrating childhood (parties, crafts, DIY, decor, etc) is what we do best.